The pictures below show the devastating results of a block explosion. Fortunately no one was injured in this incident. The driver was very shook up and covered with oil, but otherwise OK. It could have been a lot worse!

This picture shows the left front portion of what used to be a very nice John Deere 4320. You can see the damage to the hood and grill and how they were blown off.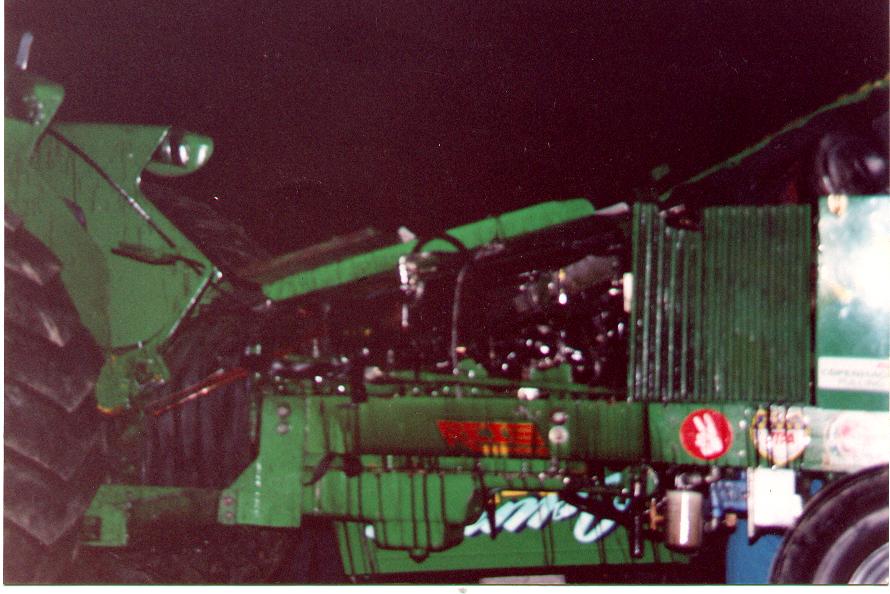 This is a right side view of the damage. You can see how the block was completely blown out of the tractor. All that was left inside the frame was about 2 inches of the block. The crankshaft and 2 connecting rods are all that is holding the tractor from breaking in half. The head, block, 4 connecting rods, and all 6 pistons landed on the track or somewhere in the crowd.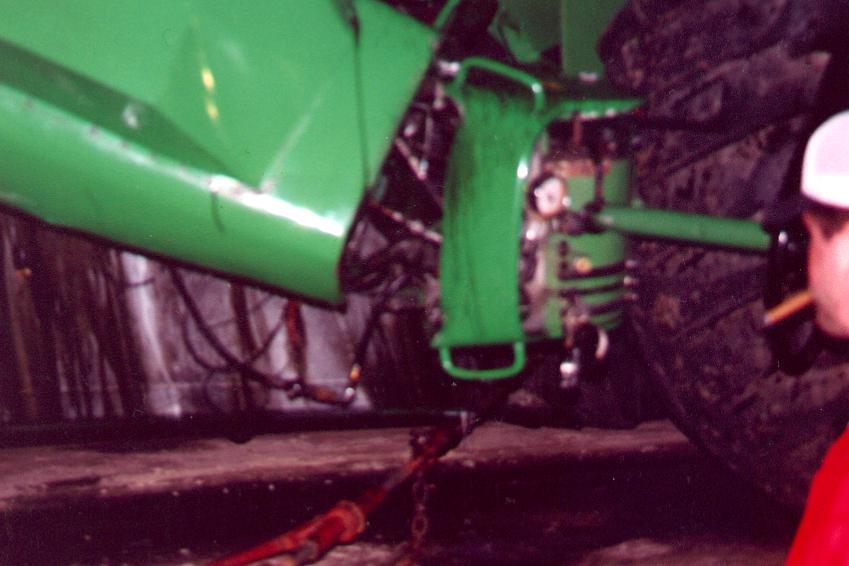 This picture is the left rear part of the tractor. You can see how the steering column and hood were blown off the tractor. The steering wheel was blown out of the driver`s hands! You can see the angle at which it fell as the tractor is sitting upright in the picture.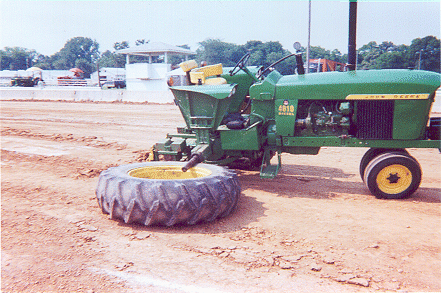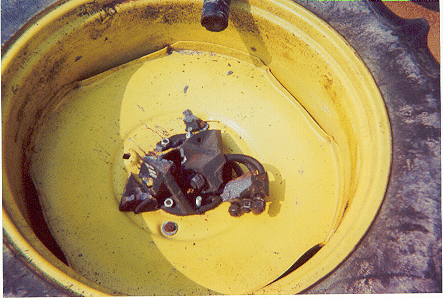 The 2 pictures above show the results of broken M&W hub in Urbana, Ohio on June 22, 2002. No one or the tractor was hurt I just got a wild ride out of it. On June 25, 2002 at a pull in Rushville, Indiana I broke the high range gear in the transmission. It`s now repaired and I`m back out having fun pulling again!
Here is a picture of my G pulling in the 6500 Div II class at the Dekalb Super Pull 2001 in Columbus, Ohio. This picture was taken by Photo Joe of Full Pull Magazine. Please check out the Full Pull website from our links page. Thanks PJ!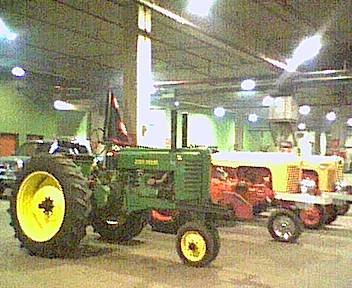 Here is a picture of my 1949 John Deere G, "Double Thunder", in the pits at the 2001 Dekalb Super Pull. The pull is hosted by The Central Ohio Antique Tractor Pullers at the Ohio State Fairgrounds. A lot of hard work by the members of COATPA make this pull a great success and a much anticipated annual event. I would like to thank the members of COATPA for a job well done! Please check out their website from our links page.
This is a picture of what I would call an "Extremely Original" John Deere G.
"Green Extreme" pulling in the 10,000 LB Pro-Stock class in Canada.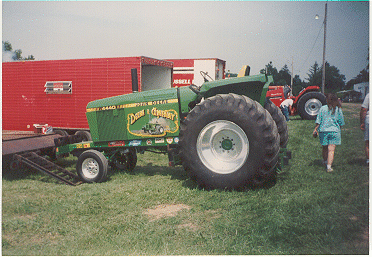 Kieth Middleton`s John Deere 4440 "Deere & Co" in the pits in Ft. Recovery, Ohio