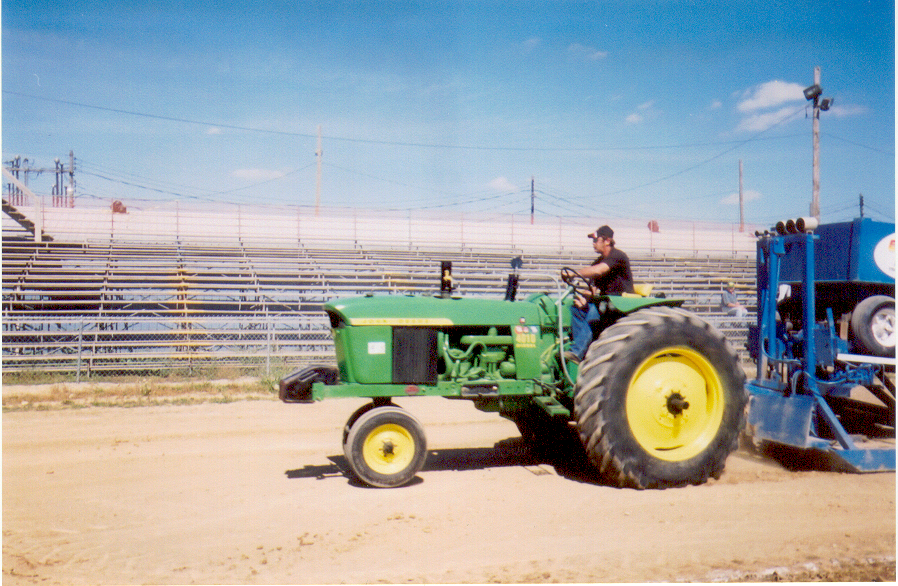 Pulling my 4010 in Imlay City, Michigan with the Eastern Michigan Tractor Pullers Association. We had a great time up there with Barry and the gang. Made some good friends too. Hopefully we can get back up there in 2004. Hope you have the dirt pile at the end of the track. You might need it to stop the Buckeye tractors. You can check EMPTA`s website from our links page. Photography by Gracie. Pretty good huh?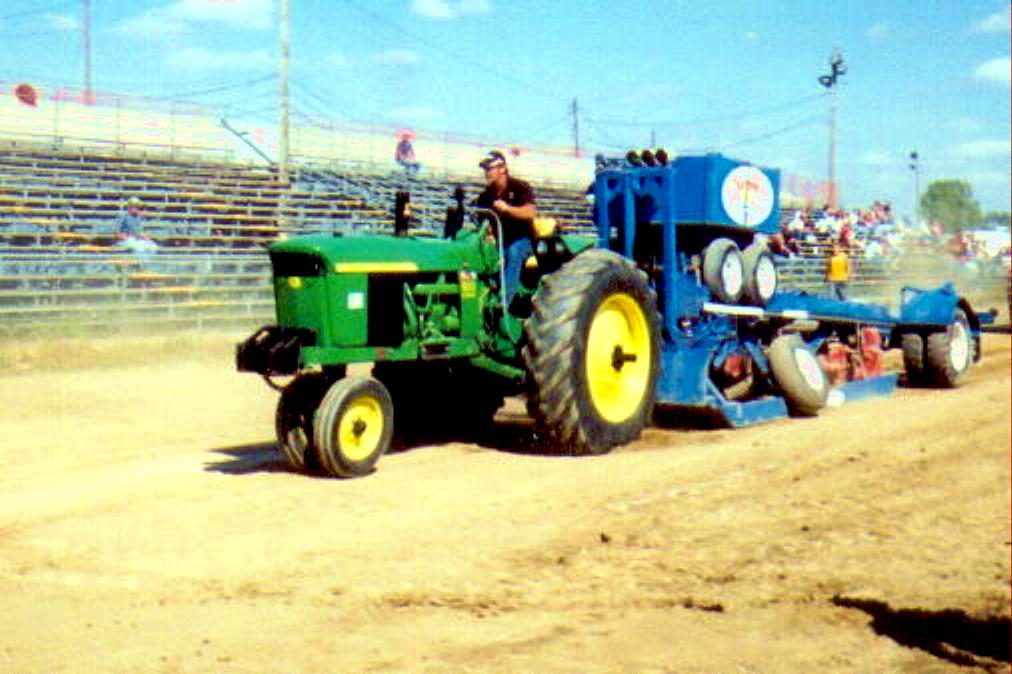 These are some of my favorite John Deere pullers. The picture below is Warren Ropp from Kalona,Iowa. His tractor is a 4555 named Iron Elk. The strongest member of the Deere family. Warren won the NTPA Grand National Title in 1986. We had some fun at the pulls!!!!!!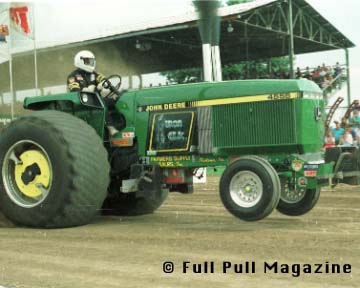 Our good friend and constant source of parts and information Marc Foust pulling his John Deere 7800 known as "Another Buck" in Bowling Green, Ohio in 2003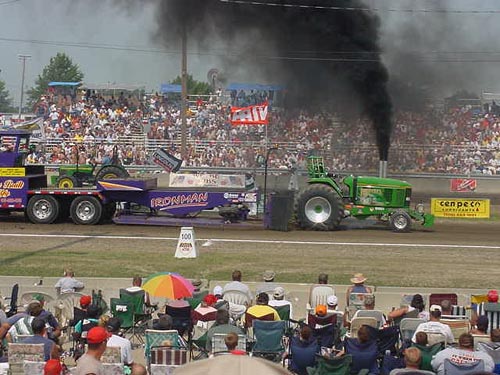 Another Buck Bowling Green 2007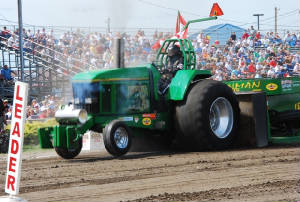 Keith Middleton pulling his John Deere 4440 known as "Deere & Company in Bowling Green, Ohio in 2003. If you get a chance check out the side shields on this one.
Keith Middleton`s new Deere & Company pulling in Bowling Green, Ohio on Saturday afternoon in 2004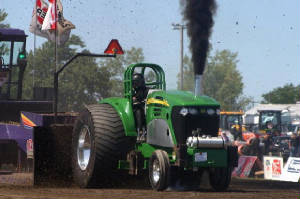 The Die Hard Deere takes a trip "Veteran`s Beach" during the Pro-Stock shootout on Sunday in Fort Wayne, Indiana. Of the 10 qualifiers for the Shootout ALL 10 were John Deere tractors. Finally we all got to see the perfect pulling class.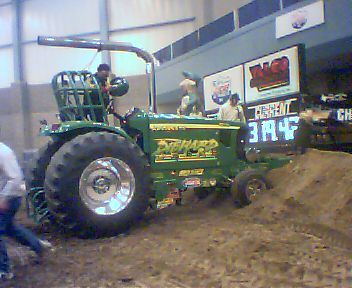 Doug Roberts "Barnyard Beast". Need I say More?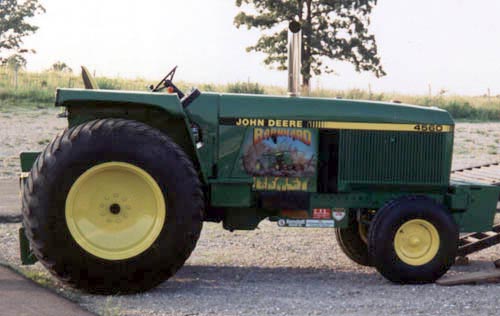 Joe Kwiatkowski`s John Deere "Taking Care Of Business" winning the Unlimited Super Stock Shootout in Fort Wayne, Indiana in 2004. Looks like the Bullet got bit-Again! Anyone remember who won the USS finals at the NFMS in 2003?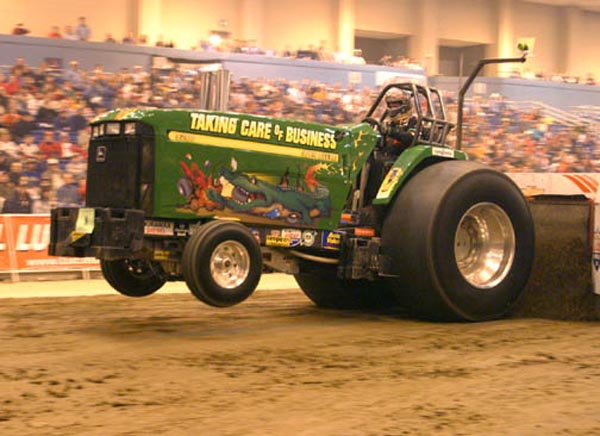 Neil Gettinger`s John Deere 4010 Diesel Super Stock"Up N Atom" pulling in Bowling Green, Ohio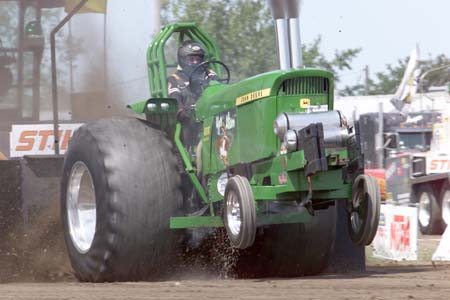 The Gettingers Up & Atom pulling in Bowling Green, Ohio in 2004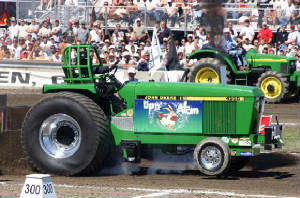 Jeff Demers "Smokin Hot Deere" in action in Bowling Green, Ohio in 2004. Either this tractor or The Gettingers "Up & Atom" will eventually win a Grand National Diesel Super Stock title. Care to bet on that one?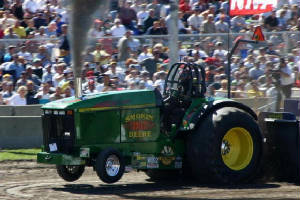 The "Wolverine Deere" Winning the Super Farm class Friday night in Bowling Green!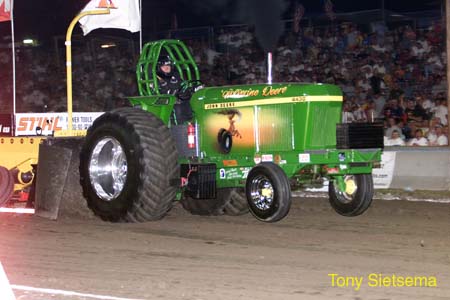 Be sure to check back often, I have a bunch of pulling pictures. You never know who you might see here. It might even be you!